Well, it's about time someone made menstruation mainstream. And no, I am not talking Mensez and its creator Dr. Daniel Dopps. Please Google Mensez and begin your morning, noon or night with a hearty laugh. Meanwhile, I'll review 2018's socially conscious Bollywood film, PadMan.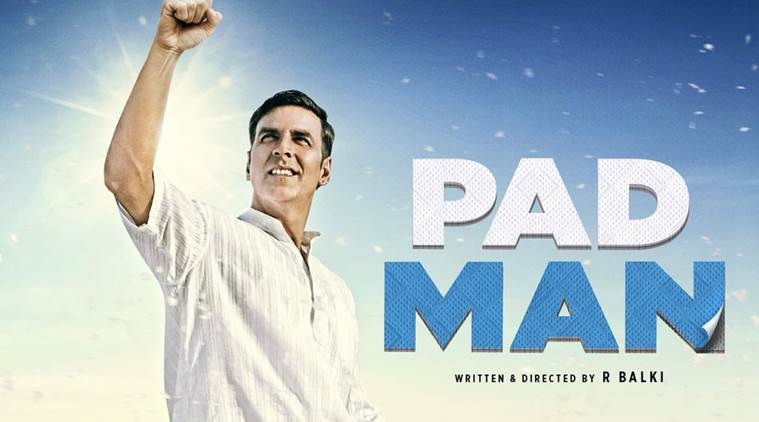 Synopsis
Directed By: R. Balki
Written By: R. Balki and Swanand Kirkire
Starring: Akshay Kumar, Sonam Kapoor, Radhika Apte and Sonam Kapoor
Based on the real-life story of one of India's most cherished entrepreneurs, Arunachalam Murugananthanam, PadMan follows the life and times of Lakshmikant Chauhan (Akshay Kumar) and his attempts at creating an affordable sanitary pad for his newly-wed wife, Gayatri (Radhika Apte). His single-minded focus and noble intentions lead him and his associates to some ebbs, flows, crests and troughs en route to him being a recognized as a revolutionary entrepreneur.
Background
Salman Khan has his mindless action movies. Aamir Khan stars in his brand of thought-provoking cinema. Shah Rukh Khan is currently struggling to find his niche as he transitions from dashing young man to the worldly middle-aged veteran. But, Akshay Kumar has clearly seamlessly transitioned from action star in the 90s to comedic leading man in the 00s to being a symbol of patriotic ideals in the 2010s. Be it Jolly LLB 2, Toilet: Ek Prem Katha, PadMan or, the upcoming, Gold, the man knows what a billion citizens of India need and he is hellbent of giving it to them.
Do his films have strong political overtones? Um… that's for us to know and for you to find out.
As you begin your viewing experience and ease yourself into the opening credits, a curious one comes into frame. Akshay Kumar's wife Twinkle Khanna is credited with formulating the film's "concept". You soon find out that PadMan is more an adaptation of her short story "A Sanitary Man of Sacred Land" than being a faithful retelling of Murugananthanam's story.
How does the Bollywood-ized version of a fictionalized true-story fare? There are two ways of finding out; continue reading or watch the film for yourself.
Saccharin but Necessary
Like Bhaag Milkha Bhaag, Mary Kom and M.S. Dhoni – The Untold Story before it, PadMan is a wholly toned-down version of one man's (in the case of Mary Kom,  woman's) story of relentlessness and ingenuity.
The factors holding this film back are two-fold. One, it is produced and conceptualized by the star's wife. Two, it is a part of the Bollywood mainstream and has a few hundred crores riding on its success. So, the outreach has to be massive as the subject being dealt with is taboo enough already. Don't believe me? Pakistan banned the release of this film stating that menstruation as a subject was not acceptable enough to be discussed in a public forum.
Hence, the film had to work as both an entertaining biopic and as a public service announcement which in turn didn't gross the men in the audience out. Lest we forget, the world is still quite male-dominated. All these factors combine and make the film's primary goal one of accessibility. Those intentions lead to the film's unsubtle writing, sugar-coated messages and a palpable disregard in delving deeper into its primary subject.
It is a shame that the end game isn't solely about telling a socially conscious story.
That being said, haven't PSAs always been spelled out to the last punctuation mark?
Convenient Storytelling and the Bollywood-ness of It All
While a logline is enough to pique one's interest, a film needs to fill its runtime with equally as captivating nuggets scattered across its story. For a solid hour, the film lets its audience live with Lakshmi. It exposes his intellect, mindset and delves deep into his budding relationship with his wife. The filmmakers also illustrate the town's overall dislike towards his activities. Most of all, these dramatic elements are built-in increments. There is some splendid writing here even if some of it is undone by overbearing dialogue.
In stark contrast to the first half, the film's second period (no pun intended) is chock full of frankly ludicrous moments and unearned emotional arcs. Lakshmi's intellect takes a backseat to the divine will. Every adversity he faces comes with a convenient solution be it a dog, a well-timed phone call or Sonam Kapoor's Pari who is the most egregious of them all. This undercuts the man's journey and makes his sharing a stage with Amitabh Bachchan and doling out a speech at the UN ring hollow ever so slightly.
Akshay Kumar's Goofy Grins Conquer All
A lesson we are all taught as kids and as adults is to smile more often as it almost universally elicits a positive response. Akshay Kumar takes this lesson and runs with it. He tirelessly plasters a goofy grin on his face that makes disliking him, his performance, and his character infinitely hard. The man works to keep his audience entertained. He simultaneously keeps their eyes away from the film's flaws and its gorgeously rustic setting.
Radhika Apte rarely slacks off, even in a role as underwritten as this one. She fills in the missing dimensions of her character with subtle eye movements and body language. These ticks allude to mountains of unexplored character depth lurking under that uncharacteristically red lipstick.
However, the arc with Sonam Kapoor's Pari is where the film veers off from its real-life roots. In true shoehorned plot point fashion, her undercooked character almost veers the film itself off the proverbial cliff. Pari is serviceable at best. But what her character represents in the grand scheme of things is what pulls the film down a few notches on the quality scale. She is the ex-machina to end all ex-machinas.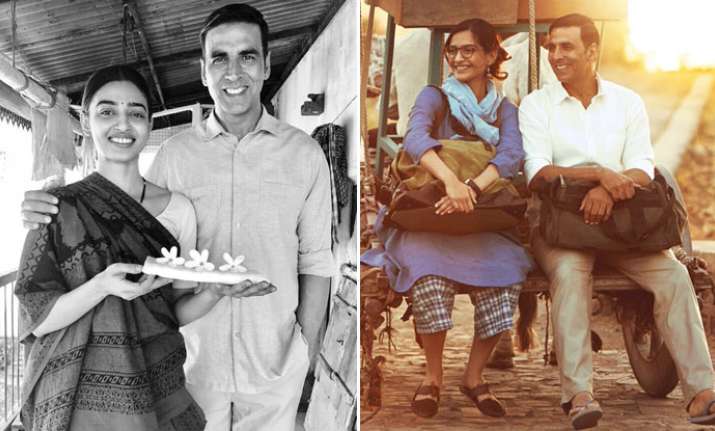 Final Thoughts
PadMan, the film, like its main character, is a product of its environment. But unlike Lakshmi, it cannot go all the way with its efforts. It has people to answer to and masters to serve. The pure, unbridled creativity the film's main character exudes is sorely lacking in the final product. What you end up with is a messy final product that left may leave you saying "Yes, it had to be told. But it could have been told much better".
Grade: B- 
---
Thanks for reading!  What are your thoughts on PadMan?  Comment down below!
If you enjoyed this article, subscribe to MovieBabble via email to stay up to date on the latest content.
Join MovieBabble on Patreon so that new content will always be possible.
What movie topic should I discuss next?  Whether it be old or new, the choice is up to you!