After delighting critics and fans at Sundance back in January, Hearts Beat Loud has finally come to theaters…and it probably deserves way more recognition from general audiences than it's currently receiving.  With great performances and catchy songs, Hearts Beat Loud is tailor-made for lovers of sweet, heartwarming stories.
The following review will be spoiler free.
Synopsis
Directed By: Brett Haley
Written By: Brett Haley
Starring: Nick Offerman, Kiersey Clemons, Ted Danson, Sasha Lane, Blythe Danner, and Toni Collette
A widower and an aging hipster, Frank (Offerman) runs a failing record shop in Brooklyn.  He struggles to pay the bills, and that issue will only become more apparent now that his daughter Sam (Clemons) is headed off to UCLA for college.
One day, like they always do, Frank and Sam mess around with their instruments in a little "jam sesh."  They end up creating a catchy song (entitled "Hearts Beat Loud").
Once Frank uploads the song to Spotify, it becomes a pretty serious hit.  Naturally, Frank wants to rekindle his past love for music and start a band with his daughter — but that might prove more problematic than he initially thought.
Background
Can we all just take a second to talk about how great Nick Offerman is as a public figure?
You know him from his countless appearances in TV and film, most notably in Parks and Recreation.  His deadpan delivery is so infectious, you can't help but love him.  Not to mention he's been a wonderful source of quality memes and gifs over the years: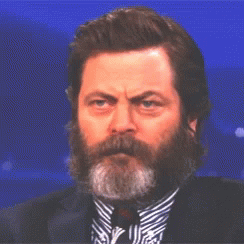 But the man has a lot of other talents as well.  Offerman has written three books thus far, including the wonderfully titled Gumption: Relighting the Torch of Freedom with America's Gutsiest Troublemakers.  
In combination with acting, Offerman is also a professional boat builder and has a side business as a wood craftsman.  He makes all types of wood structures like furniture and boats at his woodshop.  You can even learn more about it in his instructional DVD Fine Woodstrip Canoe Building with Nick Offerman.
And now, with Hearts Beat Loud, Offerman gets to show his singing chops and guitar skills to those that never knew he had it in him.
Nick, you're a light in an otherwise dark world.
Hearts Beat Loud Contains Some Wonderful Original Music
There's a film every so often that comes along and dazzles with its original music.  An indie favorite from a few years back that performed similarly was the fan favorite Sing Street (which is still criminally underseen in my opinion).  Hearts Beat Loud works in a similar manner to Sing Street, using catchy, soulful music that digs at deeper meanings between the characters to create a lovely representation of their bonds, with the titular song "Hearts Beat Loud" working as a personal favorite of mind.
The film enjoys living in its music.  It even plays out songs in their entirety.  For the characters, music connects to their past, present, and future — you learn just as much about these characters when they're singing as when they're sitting around and talking.  Dramas that share dialogue back and forth between actors can get tiresome rather quickly if the director doesn't know how to continuously be dynamic and make those conversations consistently interesting.  The songs work as a great change of pace.  They're easily the most intoxicating elements of the film.
The clear stars here are Kiersey Clemons and Nick Offerman, both of whom offer wonderful musical performances that show a different side to their acting chops than you probably knew of beforehand. 
You know Nick Offerman.  Odds are that you love him for hid deadpan delivery and stoic nature too.  You'll quickly fall in love with his soft voice and guitar abilities if you haven't already.  They're pretty wonderful if I do say so myself. 
As for Clemons, you've seen her around in other films, but you haven't seen her quite like this before.  She has such a tremendous voice that powers each song.  It even shocks Offerman on occasion.
A Classic Father-Daughter Drama Done Right
Hearts Beat Loud is a classic example of a family drama.  Tragedy causes a strife between family members.  They struggle to find their purpose (and to find a reasonable source of income to boot).  You have the moderately immature father figure that can't give up his past, a daughter that has large aspirations of a better life for herself, and a few instances of relationship problems along the way.  You don't need me to tell you that you've seen these beats in many movies before (ironically, I just told you anyway, but I digress).  The difference between Hearts Beat Loud and any of the disposable family dramas you'll find buried in Netflix's catalogue is that Hearts Beat Loud does everything really, really well.  It earns its emotion at every turn, showcasing an honest portrayal of a struggling family.
I would be remiss however if I didn't note that there are a few changes from the formula.  Aside from music playing a large part in the story, Hearts Beat Loud is all about openness and tenderness.  Most obviously, Kiersey Clemons' character has a girlfriend.  The film tackles this wrinkle with such limited flare and fireworks — it deserves a lot of appreciation.  By "limited flare" I don't mean to say that their relationship is captured with a dull attitude — it's captured as being perfectly normal and reasonable.  Hearts Beat Loud creates a loving atmosphere that no one questions why these two women are together.  They just are.  There's no hiding or shaming — only love.
That feeling of love is an offshoot of Haley's focus on creating real characters.  You won't find any cartoon characters in Hearts Beat Loud.  Nick Offerman isn't a comical overbearing father.  Kiersey Clemons isn't an absurdly rebellious daughter.  They're real people who have real problems.
It Might Border Too Closely on Schmaltz
Hearts Beat Loud walks the line between earnest emotion and schmaltz (the reliance on real characters certainly helps it to avoid the problem for the most part) and it is moderately familiar as I mentioned previously.  It even borders on hipster overload on a few too many occasions (you'll understand if you see the film), but my mind consistently went back to one thing throughout the film: it's the perfect relaxer film.  
It's not too obtuse for any person to grasp, but it has enough subtext to keep cinephiles intrigued.  It coasts off of undeniably charming performances, but it still has true emotion to create worthy drama.  It sticks to what it knows best.  You can have it on in the background and get something out of it or sit an inch away from your screen and soak up everything it has to offer.  It's the perfect blend of general escapism and well-crafted art.  
Hearts Beat Loud is destined to find a large audience that adores it at some point in time, even if it doesn't do out-of-this-world numbers at the box office.  It's too charming for the alternative to be the case.
Final Thoughts
Every so often, you need a film that warms your heart and lifts your spirit through good ol' fashion family drama…and music in this case.  You've seen the story beats in Hearts Beat Loud many times before.  The difference in this case is that Hearts Beat Loud does what it does very effectively.  It earns every ounce of emotion that it offers.
As the credits come over the screen, you'll have a big smile on your face — it's the perfect calming film that still finds way to engage its audience at every turn.
Now, I need to go download We're Not a Band on Spotify!
Grade: A-
---
Thanks for reading!  What are your thoughts on Hearts Beat Loud?  Comment down below!
If you enjoyed this article, subscribe to MovieBabble via email to stay up to date on the latest content.
Join MovieBabble on Patreon so that new content will always be possible.
What movie topic should I discuss next? Whether it be old or new, the choice is up to you!