War is complicated. Humanity is complicated. Put them together and there is a perfect storm of destruction and loss of life. But satire has a way of allowing us to both laugh and think clearly. In 1940, as World War II started to consume Europe, legendary comedic actor Charlie Chaplin released his most influential and successful film, The Great Dictator.
Charlie Chaplin: A Visionary Filmmaker
Some within the world of Hollywood see what they do as merely a job. Which, in fact, it is. They show up on set, do what they were hired to do, and then go home. If that is their prerogative, that is perfectly fine. But Chaplin did not fall into that category. He understood, as both an actor and a filmmaker, the power of the medium and how it can illuminate the imperfections in our world.
When I was in college, I took a class on his work. By the end of the semester, I learned that Chaplin was much more than his most famous character, The Tramp. Born into circumstances that I wouldn't wish on any child, he understood how the 99% was disadvantaged by a mere accident of birth and fate. Raised in the poorer parts of London in the late 19th and early 20th centuries, his early years marked by poverty and deprivation. His parents' marriage was tumultuous. Though they never legally divorced, when the marriage ended, it was over in every sense of the word. Without financial support from her husband, his mother took menial jobs to support her family and was later forced into a mental institution.
When he joined the film industry as an adult, he used his childhood experience to craft the narrative and character arcs of his work. His earlier films reflected this understanding told the story of those who were not born to the rich and powerful. The Immigrant (1917), Modern Times (1936), and The Kid (1921) are just three examples of how he completely understood the world that most of his audience lived in.
A Satirical Wartime Film with Complications
This was one of many films that were made and released during World War II. Many of these films were either political or militaristic in terms of the narrative. Only a handful (such as 1942's To Be or Not to Be) told the story of those who were trapped inside Nazi-controlled Europe, hoping and praying that they would survive.
Satire has the ability to allow the audience to relax, to laugh, and to minimize their fears. Using his uncanny resemblance to the Nazi dictator, Chaplin (like Mel Brooks after him), provided the release that moviegoers in the 1940s needed. The complications come into play with the character of Hannah (Paulette Goddard), a Jewish washerwoman. Like their real-life counterparts, the Jews of the fictional country of Tomania are forced into a ghetto. But that is where the experience of the Jewish characters on screen and the real victims and survivors of the Holocaust differ. Upon learning of the horrors of the Holocaust, Chaplin regretted using the murder of millions as a comedic plot point.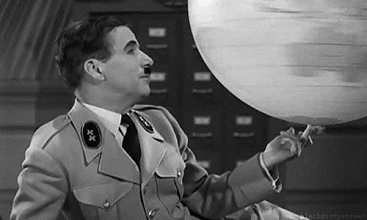 A Universal and Timely Message
If there is one thing that has remained the same, it is human nature. Technology and science may change, attitudes may change, but human nature is and will always be constant. Watching this movie in 2020 feels as relevant as it was in 1940. We are living in a world in which democracy does not feel like a sure thing anymore. Not that it was, to begin with, but I think that those of us who live in democratic countries have taken it for granted.
It is Chaplin's final speech that for me, gives this film its special sauce. He could have gotten on his soapbox and lectured his audience. But given the time period and the subject of the film, stepping on a soapbox would have undone the message of the movie. Instead, he uses the character of the Jewish barber pretending to the Hynkel, the Tomanian dictator to reach the hearts and minds of those in the theaters. Change can only come from when our hearts and minds are open to the necessary steps needed to make said changes.
---
Follow MovieBabble on Twitter @MovieBabble_ and Follow Adina @writergurlny
Thank you for reading! What are your thoughts on The Great Dictator? Comment down below!
If you enjoyed this article, subscribe to MovieBabble via email to stay up to date on the latest content.
Join MovieBabble on Patreon so that new content will always be possible.