2019 was a big year for A24, which distributed some of the more noteworthy and beloved indie films, including The Lighthouse, Midsommar, High Life, The Farewell, and many more. But arguably none were more successful than Uncut Gems, which has become both a critical and financial darling for the distributor. It's not difficult to see why: it has a dynamite performance from Adam Sandler, plenty of fun supporting personalities, and non-stop thrills. All and all, you can't ask for much more out of a crime movie.
Members of the MovieBabble staff break down some of the more noteworthy parts of the film in our Uncut Gems Exit Survey.
---
Describe your overall enjoyment of the film with an appropriate GIF.
Ashvin Sivakumar:
Collin Willis: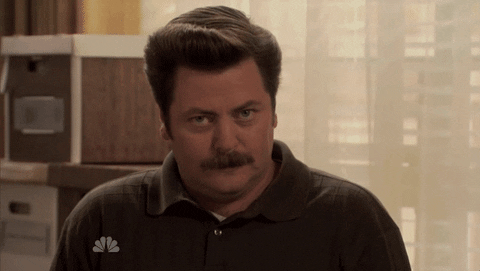 Adina Bernstein: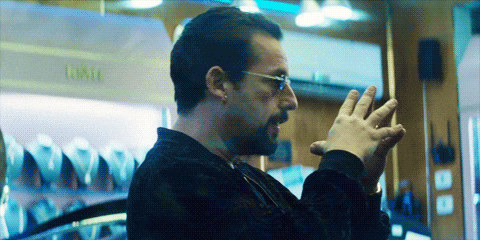 Nick Kush: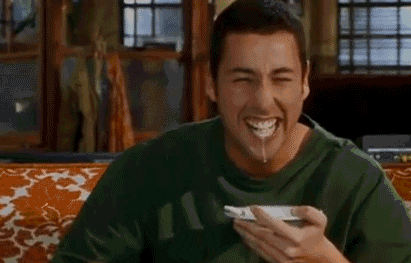 Where does Sandler's turn as Howard Ratner rank among all of his performances?
Ashvin Sivakumar: Quite high-up, probably only behind Punch-Drunk Love for me.
Collin Willis: Number One. His only real contender is Barry in Punch-Drunk Love, but the work he put into Howard both on camera and off is world-class acting.
Adina Bernstein: I haven't seen an Adam Sandler film in a few years, but it ranks pretty high. It's nice to see him finally playing a grownup, complicated character instead of the man-boys he is known for playing.
Nick Kush: I adore his work in Punch-Drunk Love and The Meyerowitz Stories, but I think this is his best work ever. Howard Ratner is already an iconic character in my book, and the Safdies use all of Sandler's crazy, gonzo ticks to full effect to form a person who is essentially a sociopath.
On a scale of 1-10, how anxious did Uncut Gems make you feel?
Ashvin Sivakumar: Well, a 9? The pacey dialogue never stops and conversations are layered with further conversations and interruptions and the combustion of all that equivalates to a hyper-thrilling opening that feels as anxiety-inducing as the Safdie's previous film, Good Time, but dialed up higher.
Collin Willis: 11. This movie is still stressing me out two weeks later.
Adina Bernstein: 7. I wanted to reach into the screen and warn him that what he was doing would not end well, but I couldn't.
Nick Kush: 37, especially because I had to relive the Sixers' loss to the Celtics in the 2012 Conference Semis. I still haven't gotten that series out of my head.
Favorite side character?
Ashvin Sivakumar: Julia Fox, she's the MVP of the film. She stole the show. I mean, what a confident and assured debut outing for her in her first film role. She's wonderful.
Collin Willis: KG. Athletes turned actor are always a mixed bag, but Kevin Garnett found a healthy balance between playing himself and playing the character. His obsession with the uncut gem helps sell the whole movie.
Adina Bernstein: Dinah. I loved that she was the only one who could call Howard on his shit.
Nick Kush: All of them are superb, especially KG who looks EXACTLY like he did when he played. (Plus, one of my weird loves in movies is great stunt casting, which Uncut Gems is stuffed with.) But my favorite is Keith Williams Richards as Phil, the goon that eventually blows Howard's brains out at the end of the film. He is so New York, from how he dresses to his tough guy, brawler persona. I love everything about him. Even better, this was his first acting credit ever!
Favorite moment?
Ashvin Sivakumar: I think the film has a killer opening that transitions from the origins of the diamond to Sandler's colon.
Collin Willis: Howard's highs when winning the first and second bet. They're one of the few times this movie lets Howard win and Sandler does some of his best acting in these quick beats.
Adina Bernstein: The Passover seder scene. There are far too few movies and/or TV shows that show the traditional aspect of Judaism that are not some variation on Fiddler on the Roof.
Nick Kush: So I love just about everything in this movie — this was my #1 movie of 2019, after all — but I'm sort of obsessed with the transition from the diamond mines in Ethiopia into Sandler's colon. First off, that's just fucking hilarious. Second, it begins the mysticism surrounding the gem that drives the entire film as we move through the cosmic flickering colors, which is immediately transfixing.
Strangely, it's a poignant melding of the profane and the artistic, which is kind of the Safdies' style in a nutshell. It's unquestionably a nod to the old saying about people being so tight with money that they shit diamonds, and that Howard will be under a ton of pressure throughout the movie. There's also something there about these almost magical gems quite literally going to shit in the hands of terrible people. It's such a striking, strange choice that I could watch over and over again.
Least favorite moment?
Ashvin Sivakumar: Hard to have a least favorite moment, but perhaps when Howard meets his end. Not a bad moment at all, however.
Collin Willis: When the credits ended and I was told I had to leave the theater.
Adina Bernstein: When he makes the bet worth $25k using the ring as collateral. My stomach dropped into the chair.
Nick Kush: Every moment that I'm not watching this movie.
With a few films under their belts and rising stardom in the industry, what kind of movie would you like to see the Safdies tackle next?
Ashvin Sivakumar: Branch out for sure. I'm sure there's diverse talent waiting to work with them out there (Timothée Chalamet, please) and they have the backing, support, and respect of Hollywood's most famed stars and directors, such as Martin Scorsese — who produced Uncut Gems — so why not branch out and try out some new genres with various new talents. I'm sure they'd do a wonderful job with expanding into new genres and that would certainly broaden their filmography.
Collin Willis: I hope they try something new. They've clearly proven they know how to tackle genre and how to make a compelling crime film, I can't wait to see what other genres they have in their tool belts.
Adina Bernstein: I've never seen any of their previous films, so I can't comment in one direction or another. I would have to say whatever suits their fancy, because why not?!
Nick Kush: In my mind, the Safdies currently hold the title as the Kings of the New York crime movie, so if they wanted to continue in this genre, I would be more than happy! But they clearly love to stress the hell out of the viewer, so no matter what genre they go to next, I'm sure that'll be a major element.
---
Follow MovieBabble on Twitter @MovieBabble_
Thank you for reading! What are your thoughts on the Uncut Gems Exit Survey? Comment down below!
If you enjoyed this article, subscribe to MovieBabble via email to stay up to date on the latest content.
Join MovieBabble on Patreon so that new content will always be possible.