Racing, Fords, Ferraris, masculinity, movie stars, and the 1960s: Ford v Ferrari has the appearance of a dad film for the ages. But with James Mangold directing two of our best male leads in Hollywood, Ford v Ferrari is wildly entertaining from beginning to end, showcasing some impeccable racing sequences and an antithetical Christian Bale performance when compared to his recent work. By the end of 2019, a lot more than just 50-year-olds in New Balances will have it among their favorite movies of the year.
Members of the MovieBabble staff break down some of the more noteworthy parts of the film in our Ford v Ferrari Exit Survey. SPOILERS to follow.
---
Describe your overall enjoyment of the film with an appropriate GIF.
Steven Ruiz:
Collin Willis:
Ashvin Sivakumar:
Brennan Dubé:
Nick Kush: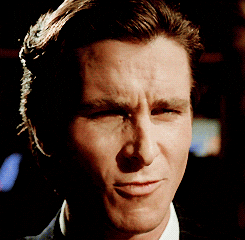 Did you have any prior knowledge of the 24 Hours of Le Mans before seeing the film? Would you consider yourself a car person?
Steven Ruiz: Everything was new to me. I never even heard the name Ken Miles before this film. I don't consider myself a car person but I enjoyed the film for teaching the dangers of hot wheels.
Collin Willis: No. I can change a tire and ignore a check engine light, but that's about it.
Ashvin Sivakumar: I've never been a car person per se, so to no one's surprise, I was rather unaware of the race beforehand.
Brennan Dubé: I didn't have any prior knowledge about the race at all! So it was pretty exciting to experience all of this stuff for the first time. I wouldn't consider myself a car person but I'm not completely out of the loop.
Nick Kush: Other than knowing that Le Mans was a nebulous thing that existed in this world, no. I just take my car to the shop every few months and hope I don't get ripped off.
Better performance: Matt Damon or Christian Bale?
Steven Ruiz: Matt Damon is Matt Damon in a cowboy hat but while watching Bale, I didn't see him. He turned himself into Ken Miles. Great performance.
Collin Willis: Christian Bale. They both performed well, but Bale's take on Ken Miles stuck with me more. He also seemed to be having the time of his life with the role, which isn't something you see him get to do very often.
Ashvin Sivakumar: Bale. It's showier and a testament to his ability to transform into roles.
Brennan Dubé: Both performances were really solid, the chemistry here is great. Bale's character had a lot more flair to him so it would be easier for many to think that his performance was stronger just because of the antics that went into playing that character. However, Damon's composed performance is also worth noting as one of the stronger ones this year. Both were great!
Nick Kush: I think the obvious choice here is Bale. With his last two live-action movies being Vice and Hostiles, we haven't had a lot of the kooky side of Bale in some time, which may be my favorite side of him as a performer. Everything from him mugging while holding his tin teacup to smashing the underside of his trunk to stick to regulations is absolute perfection.
What was your favorite racing moment?
Steven Ruiz: Bale's Miles against the last Ferrari racer. It was so intense and directed so well by Mangold.
Collin Willis: The sequence where Ken's brakes give out during Le Mans was incredibly tense. The race felt very alive because of the little moments and struggles worked into it, and this was certainly the instance that kept me on the furthest edge of my seat.
Ashvin Sivakumar: The moment Bale knew he'd won when he was miles ahead of everyone else and he was leading the race. Glorious feeling.
Brennan Dubé: Bale yelling during a race is something I want to hear on playback. So funny! There were also several moments during the Le Mans race that were absolutely exhilarating.
Nick Kush: Does watching Henry Ford II piss himself during the test run count?
How do you think Ford comes across in this movie?
Steven Ruiz: Scared that they might lose the company but then confident once they learn about what the GT40 can do. It's similar to how most companies act when uncertainty is part of the equation.
Collin Willis: Not in a way that Ford would be proud of. They come across as very sleazy and inconsistent, seeking only to take advantage of everyone around them.
Ashvin Sivakumar: Patriarchal… very patriarchal and too often feeling like they are overstuffed with masculinity.
Brennan Dubé: The Ford company definitely comes across as controlling and at times the villain of the movie. While the title is Ford v Ferrari here, in Europe the film's title is Le Mans '66. That title may feel a little more appropriate given how the film plays out, but maybe not as marketable here in North America. I appreciated that this film didn't feel like a true company vs. company duel, but rather it felt like it was the talented creators against Ford, then ultimately against Ferrari.
Nick Kush: I'm not sure I look at Ford any differently than before seeing the movie. But they do stand as a solid metaphor for the creative process and working within the studio system in Hollywood. Seeing a curiously high-budgeted movie about a couple of guys trying to fend off the suits tickles my poetic side.
What awards will this movie contend for come Oscars season, if any?
Steven Ruiz: Sound mixing/editing and cinematography. There's been a lot of outstanding performances this year but I hope Christian Bale gets a nod in the Best Supporting Actor category.
Collin Willis: Best Editing, for sure, possibly even Best Screenplay, Best Directing, or Best Picture depending on how well the rest of the year's films turn out. It was a very solid movie overall. Lots of thrills and not much to complain about, even if it doesn't tread any never-before-seen territory.
Ashvin Sivakumar: I have a feeling it could contend for Best Picture.
Brennan Dubé: I feel that this film has the potential to do great with below-the-line awards such as sound mixing/editing, film editing, potentially cinematography. In terms of the acting and writing awards, this film may have a shot but I think that remains to be seen. It's such a competitive awards year!
Nick Kush: I think Ford v Ferrari is the classic example of the one movie every year that gets a Best Picture nomination but everyone knows that it has absolutely no chance of winning, especially because I imagine that a lot of the older Academy voters will go nuts over it. Other than that, I could see a Best Supporting nom for Bale, and a few other below-the-line awards like Cinematography, Editing, and Sound Mixing/Editing.
What will be your lasting memory of Ford v Ferrari?
Steven Ruiz: Matt Damon and Christian Bale's chemistry. I didn't know they would be able to click right away!
Collin Willis: Ken Miles singing "H-A-P-P-Y". I'm not sure why but I can picture this moment with more clarity than the rest of the film, even though I loved all of it.
Ashvin Sivakumar: "You promised me the race, not the win." (and of course the use of Rolling Stones' "Gimme Shelter" in the trailer)
Brennan Dubé: Honestly, if anything, it's that Ken Miles deserves to be remembered! Go see this movie!
Nick Kush: I was overwhelmingly nostalgic for a time when all a big-budget movie needed to do was pair two likable stars together and fit an enthralling story around them. FvF is certainly an outlier in the current movie marketplace. Oh, and this gif of Bale is quickly becoming iconic:
---
Follow MovieBabble on Twitter @MovieBabble_
Thank you for reading! What are your thoughts on the Ford v Ferrari Exit Survey? Comment down below!
If you enjoyed this article, subscribe to MovieBabble via email to stay up to date on the latest content.
Join MovieBabble on Patreon so that new content will always be possible.