Reviews for Black Panther are starting to come in with overwhelmingly positive praise going towards everyone involved.  Needless to say, the hype is real, and the MovieBabble staff is beginning to feel it.  Let's see how a select group of MovieBabble writers is handling the mounting excitement in this Black Panther entry survey:
Describe your overall excitement level with an appropriate gif.
Ned: 
Maggie:
Patricia:
Steven:
Trey:
I imagined the cat being Black Panther and Shaq being me…
Nick: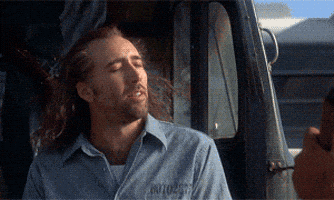 Every occasion calls for Nic Cage!
Which part of the film has you the most jacked?
Ned: I'm stoked for the soundtrack.  Everything we've gotten so far has been fantastic and I can't wait to see how the team uses Kendrick Lamar's music to augment the film.  I'm also excited because listening to it in the car will allow me to pretend I'm driving a 2018 Lexus LC 500 instead of a 2007 Hyundai Accent.
Maggie: The beginning, the middle, and the end!
Patricia: Honestly, the fact that the female characters look just as awesome as the men!
Steven: Killmonger vs. T'Challa
Trey: Seeing a major comic book movie with an all-black cast has me stoked. It's the first MCU movie with a minority in the lead role, and that is a step in the right direction.
Nick: Black Panther has Bond-like gadgets?????
Does anything from the promotional material make you nervous?
Ned: I'm nervous that I won't be able to handle how awesome this movie is.
Maggie: Nope!
Patricia: Not so far!
Steven: Not really.
Trey: Martin Freeman with an American accent will take some getting used to, he'll always be John Watson to me. Other than that, nothing makes me nervous.
Nick: Umm, the soundtrack was produced by Kendrick.  That doesn't even answer the question but it makes up for any momentary lapses in judgement by the marketing department.
Top 5 MCU movies.  Ready…GO!
Ned: 
Guardians of the Galaxy
Ant-Man
Maggie: Captain America: Civil War, Iron Man, The Avengers, The Incredible Hulk, Spider-Man: Homecoming
Patricia: 
Captain America: The First Avenger
The Avengers
Iron Man
Thor
Iron Man 3
(I'm sure that'll change when I finally see Doctor Strange)
Steven: The Winter Soldier, Ragnarok, The Avengers, Ant-Man, and Iron Man
Trey: 
Captain America: Civil War
Captain America: Winter Soldier
The Avengers
Guardians of the Galaxy
Iron Man
I'll give an honorable mention to Thor: Ragnarok. It almost made my number 5.
Nick: Winter Soldier, Winter Soldier, Winter Soldier, Winter Soldier, and Winter Soldier.
Alright, alright.  I guess I'll throw Civil War, Guardians, The Avengers, and Iron Man somewhere in there.
Can Michael B. Jordan actually be a good Marvel villain?
Ned: Does Michael Bay make awful movies?
Maggie: Not sure…he kind of reminds me of Nick Cannon…
Patricia: I sure hope so. He's one of those actors who runs very hot and cold for me.
Steven: Yes, I think he'll be great.
Trey: He's a great actor, and this is his third time working with Ryan Coogler. Everything is working in Marvel's favor to get a great villain.
Nick: 
I think he'll do just fine.
Any ideas what the end credit sequences will entail?
Ned: Ideally?  Nothing, this would separate the film from the rest of the franchise's repertoire.  Realistically?  Probably Thanos being menacing…cause we haven't seen that before…
Maggie: The credits will hopefully show Edward Norton turning back into the Hulk…
Patricia: I'd imagine something that makes a bridge to Infinity War.
Steven: Steve or Tony in Wakanda alerting T'challa about Thanos.
Trey: There will definitely be one teasing Infinity War, maybe dealing with the last infinity gem.
Nick: Captain Marvel, anyone?
What's your expected grade of the film on an F to A+ scale?
Ned: A?  I'm totally susceptible to hype, even after I've finished a film so I'm pretty sure I'll love it and talk about nothing else until May.
Maggie: A.
Patricia: B.
Steven: B or B+.
Trey: I'm expecting it to be an A, but it has the potential to be an A+.
Nick: I'm feeling a strong A-.  The inner cynic in me might decide to nitpick at an MCU tie-in or two.
---
Thanks for reading!  What are your thoughts on the Black Panther Entry Survey?  Comment down below!
If you enjoyed this article, subscribe to MovieBabble via email to stay up to date on the latest content.
Join MovieBabble on Patreon so that new content will always be possible.
What movie topic should I discuss next?  Whether it be old or new, the choice is up to you!