It has been nine years since Toy Story left us in a proverbial puddle of tears with Toy Story 3. Generally speaking, it was considered the perfect ending to a perfect trilogy. But as Luke Skywalker told us in the trailer for the upcoming Star Wars: The Rise of Skywalker, "no one's ever really gone," and we now have Toy Story 4. Though its existence was initially met with skepticism, naturally, we loved Toy Story 4 so, so much. 
Members of the MovieBabble staff break down some of the more noteworthy parts of the film in our Toy Story 4 Exit Survey.
---
Describe your overall enjoyment of the film with an appropriate gif.
Collin Willis: I feel like I've used this gif before… but I can't think of a more appropriate use for it now.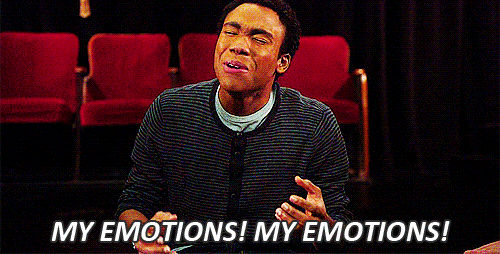 Jen Seggio:
Nick Kush:
How nervous were you about Pixar making a 4th Toy Story movie?
Collin Willis: Very. Toy Story 3 is literally the perfect ending to the perfect trilogy. Topping it or even being on par with it seemed impossible.
Jen Seggio: Pretty nervous. I'm a big Toy Story and Pixar fan and the third movie ended on a perfect note. The fourth movie had a 50/50 chance of being the continuation we never knew we needed or an unnecessary addition that could spoil the previous movies.
Nick Kush: EXTREMELY nervous. Toy Story 3 hit me as I was becoming a teenager, so right when I was beginning to feel angsty and confused with my place in the world. Even though Toy Story had such a good track record, I have also seen Cars 2 and 3! We've seen Pixar occasionally drop the ball to reap the benefits of toy sales, and I feared the same for Toy Story.
Pixar is known to appeal to both kids and adults, so what was your favorite kids moment and adult moment?
Collin Willis: Forky thinking he's trash. This bit killed me and every kid in the theater was laughing. Woody's empty nest syndrome and role as an aging parent was very well done and continued the story in a very meaningful way.
Jen Seggio:
Kids moment: Just about any moment with Key and Peele's characters, though I heard plenty of adults cracking up at their "Plush Rush" running gag.
Adults moment: The theme of how far you go for your loved one and when you need to stop to take care of yourself. Woody pushes himself so far to ensure he makes Bonnie as happy as he did Andy that he's ready to give up a second chance with Bo Peep, the only toy he ever loved, and even allows himself to be mutilated in order to rescue Forky. Buzz telling him that Bonnie will be okay and he can go live the life he dreamed of with Bo was an emotional gut-punch and tremendously satisfying. He's giving Woody permission to step back and let someone else take care of the tremendous responsibility he built up his entire lifetime at his own personal cost.
Nick Kush: My mind has been completely fixated on a moment between Woody and Forky on the side of the road. It begins with Forky being the delightful goof that he is, but then the conversation quickly turns to Woody's existential crisis as a toy. He says the following about kids: "You watch them grow up, and become a person, and then they leave. They'll do things you'll never see."
Damn, Woody. Going straight for the jugular.
Which new toy did you like the most?
Collin Willis: Duke Kaboom. For a bit character, he had a surprising amount of depth and Keanu was hilarious in the role.
Jen Seggio: Duke Kaboom. Keanu Reeves is fantastic and so melodramatic. Here's hoping he does more animation work!
Nick Kush: Duke Kaboom steals the show (we truly are in the middle of the Keanussaince), but I really loved the mini-reunion we had between Key and Peele. Their rapport, as usual, is dynamite, and responsible for some of the biggest laughs in the film.
Approximately how many times did you cry?
Collin Willis: One if you consider the fact that I started crying when the movie began and finished when it ended.
Jen Seggio: Didn't cry, but came VERY close to in the movie's final scene.
Nick Kush: If tearing up counts as 0.5 of a cry, then about 2.75 times.
So how would you rank all of the Toy Story movies after seeing 4?
Collin Willis: Toy Story, Toy Story 2, and Toy Story 3 are impossible to rank, but Toy Story 4 is definitely my least favorite. I liked it, but there are parts of it that bother me.
Jen Seggio: Toy Story 2, Toy Story, Toy Story 4, and Toy Story 3.
Nick Kush: Shoosh, how is this even possible? I guess I'd go: Toy Story, Toy Story 3, Toy Story 4, and then Toy Story 2.
(There are no losers here, just winners.)
What's your letter grade of the film on an F to A+ scale?
Collin Willis: A-
Jen Seggio: A-
Nick Kush: It's an A for me. Toy Story continues to be arguably the most thought-provoking, audience-accessible franchise in modern Hollywood. Do I need a 5th one? No, but now, I'd be perfectly fine if Pixar decided to go forward with it.
---
Follow MovieBabble on Twitter @MovieBabble_
Thanks for reading!  What are your thoughts on the Toy Story 4 Exit Survey?  Comment down below!
If you enjoyed this article, subscribe to MovieBabble via email to stay up to date on the latest content.
Join MovieBabble on Patreon so that new content will always be possible.
What movie topic should I discuss next?  Whether it be old or new, the choice is up to you!