When you put Daniel Craig, Ana de Armas, Chris Evans, Jamie Lee Curtis, Michael Shannon, Don Johnson, Toni Collette, Christopher Plummer, LaKeith Stanfield, and even the great Frank Oz into the same movie, odds are that it's going to end up being a pretty fun ride. And that's precisely what Rian Johnson did with Knives Out, turning the murder mystery genre inside with great writing and larger than life characters.
Members of the MovieBabble staff break down some of the more noteworthy parts of the film in our Knives Out Exit Survey. SPOILERS to follow.
---
Describe your overall enjoyment of the film with an appropriate GIF.
Ashvin Sivakumar: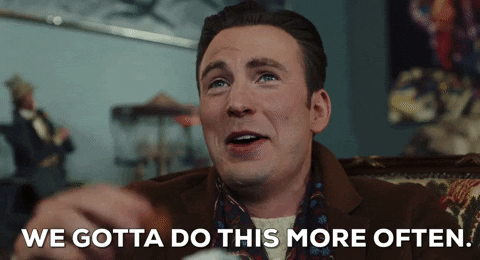 Collin Willis:
Chris van Dijk: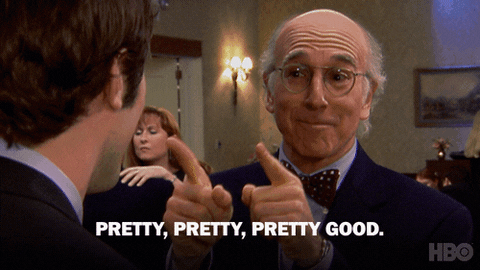 Nick Kush:
Where does Knives Out rank among Rian Johnson's filmography for you?
Ashvin Sivakumar: I think it's his best work to date, above his other great films like The Last Jedi, Looper and The Brothers Bloom.
Collin Willis: Top tier. I'd list it right under The Last Jedi as the #2 spot.
Chris van Dijk: Besides Knives Out, I have only seen Brick, Looper, and The Last Jedi. I would say Knives Out is the most rewatchable of the quartet. Brick was a solid indie noir film. Looper was a fun pulpy time-travel thriller with a satisfying dark ending. And the less said about The Last Jedi the better — it's certainly the worst of all of them. I would say, the script in Knives Out is also the smartest of the four. So yes, it might be his best film.
Nick Kush: I will always stan Looper as my favorite Rian Johnson movie unless something truly life-changing comes around. Knives Out is #2, but it is probably a less messy film than Looper which is so strange and amorphous that I'm endlessly fascinated by it.
What was your reaction after it was initially revealed that Marta looked to have killed Harlan? Where did you think the film was going from there?
Ashvin Sivakumar: Shocked but not surprised, but I had a feeling someone intervened in it or that it wasn't the full truth.
Collin Willis: I liked it. Telling us whodunnit was a bold move that kept us from guessing who the murderer was and kept us focused on learning about and engaging with Marta as a character.
Chris van Dijk: I was surprised though I was almost a bit disappointed since much of the suspense was depleted from the plot. Luckily the film was so ridiculously entertaining that it stopped mattering. I didn't know where it was going to go, but when it arrived at its eventual destination, I was satisfied.
Nick Kush: I think I audibly spouted "OHH!" The thing I always love about Rian Johnson's movies is that he finds a way to spin the tropes of a genre into something new while still being able to deliver a lot of the thrills that we would expect from them — that is unless you're one of those people that hates the-Star-Wars-movie-that-must-not-be-named. I honestly had close to no idea where the movie would go from there, so I strapped myself in for the ride.
Favorite and least favorite side character?
Ashvin Sivakumar: Ransom was probably my favorite. Chris Evans was incredibly menacing in the role, and I adored the performance. The benefit of having a film this good, with a cast this talented, is that I didn't have a least favorite character.
Collin Willis: Favorite: Walt. I'm a sucker for a good Michael Shannon performance. Least Favorite: Joni. She felt too similar to Ransom but wasn't important enough to truly stand out on her own.
Chris van Dijk: My favorite supporting characters was Harlan, due to the incredible dignified presence of Christopher Plummer. But the funniest of the bunch had to be either Richard (Don Johnson) or Walt (Michael Shannon). Both these performers have incredible comic timing which was utilized to perfection. My least favorite character was Hugh (Chris Evans). All due respect to Chris, he was unlikeable from the moment he stepped on screen.
Nick Kush: Shoosh — it's almost impossible to choose. It's a tie between Walt and Richard for me, followed closely by Linda and Ransom. Walt asking Nana if she wanted food and repeating it over and over again killed me, and Don Johnson as Richard had perfect comedic timing.
I found myself wanting more from Jaeden Martell as Jacob. I wanted Rian Johnson to double down on his alt-right tendencies. An obscenity-laden tirade during the fireside political argument could have been golden.
Favorite moment in the film?
Ashvin Sivakumar: The "you"/"Hugh" did it gag. It is HILARIOUS! (The cathartic ending deserves a mention too.)
Collin Willis: The donut monologue. Daniel Craig was having fun and it really encapsulated everything about Rian Johnson's writing that I love.
Chris van Dijk: My favorite moment is probably the little moment when Walter is yelling at Hugh, saying something like "You want some milk with your cookies?" I also loved the short mournful monologue Plummer gave before his eventual demise.
Nick Kush: Literally anything Daniel Craig says.
Did the political and societal underpinnings of Knives Out work for you?
Ashvin Sivakumar: It did work. It felt modern and politically important and aware of its positions.
Collin Willis: Yes. They beat you over the head with it in one scene but it blends so well into the family drama that it's hard to nitpick.
Chris van Dijk: Yes it did. The message against the entitlement was brought with good humor and it never got preachy. I could see many warped Americans feeling insulted by this, but these people need a reality check, to begin with.
Nick Kush: Very much so! I think we've all encountered a version of the political argument at the party, with someone falling back on classic American heritage while someone else invokes Godwin's law in his or her rebuttal. Knives Out is also a very interesting companion piece to Ready or Not and Parasite in 2019's eat-the-rich film trend. I appreciate that Rian Johnson delivered a clear, self-confident message, especially in the wake of all the hate he has dealt with over the last few years.
Did you guess the ultimate twist at all?
Ashvin Sivakumar: Yes… and no. I kinda guessed it would be Ransom — he seemed suspicious, but I would've never guessed how. And for that, I thank the genius of Rian Johnson.
Collin Willis: I guessed it about 5 seconds before the movie raised the curtain on it, which is exactly what I hope for in a good whodunnit.
Chris van Dijk: Well not really but then again, I wasn't trying to figure the film out, I was just enjoying the ride. It wasn't a mindblowing twist either — the biggest douche turned out to be a murderer. I love the callback to the stage knife, however. That was brilliant.
Nick Kush: By the laws of Hollywood celebrity, when a movie casts someone as famous as Chris Evans in a supporting role, you know he's going to become more involved than the movie lets on at first. But I never would have guessed the mechanics of how we get to that final reveal because it's so complex and detailed-oriented. Ultimately, it's a murder mystery without an actual murder, which is a really neat idea!
---
Follow MovieBabble on Twitter @MovieBabble_
Thank you for reading! What are your thoughts on the Knives Out Exit Survey? Comment down below!
If you enjoyed this article, subscribe to MovieBabble via email to stay up to date on the latest content.
Join MovieBabble on Patreon so that new content will always be possible.