Noah Baumbach has made a career off of telling stories about crumbling relationships among people surrounding or involved heavily in the Arts. Marriage Story is no different in that respect, but it also shows how Baumbach has matured over the years by showcasing a balanced depiction of how damaging divorce can be to both parties.
Members of the MovieBabble staff break down some of the more noteworthy parts of the film in our Marriage Story Exit Survey. SPOILERS to follow.
---
Describe your overall enjoyment of the film with an appropriate GIF.
Steven Ruiz:
Ashvin Sivakumar:
Michael Heimbaugh:
Spencer Henderson:
Nick Kush: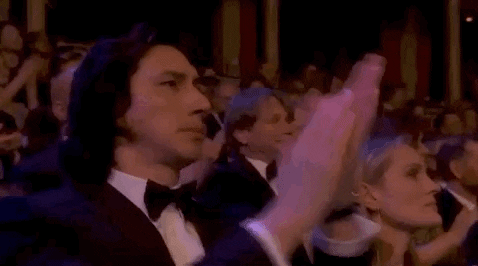 Should you watch Marriage Story with or separate from your significant other?
Steven Ruiz: I would say with your significant other, just to get an honest view of how a marriage falls apart and the struggles that come with it.
Ashvin Sivakumar: That's interesting to bring up, and I'd say either. If anything, it'd help point out ways to be better in a relationship.
Michael Heimbaugh: Oh yeah, I think couples should absolutely watch this together. The movie is nothing if not a cautionary tale, so hopefully it'll open up a healthy dialogue between the two parties about honesty, equality, and communication in their relationship. (If that dialogue isn't there already, of course.)
Spencer Henderson: Both times I saw the film was with my girlfriend, and avoiding eye contact for over two hours both times was deeply uncomfortable. So in other words: no.
Nick Kush: It might depend on how strong your relationship is. If you differ on Marriage Story or improperly choose a side between Charlie and Nicole, you may have some uncomfortable discussions coming your way with your significant other. (Again, shout out to my girlfriend for a very stable relationship.)
Most devasting scene?
Steven Ruiz: Probably when Charlie gets served. That was the moment where the two just come to a realization that it's becoming official. The moment where the two began to drift apart from each other. Then, of course, you have Charlie's breakdown. That was heart-wrenching. So many emotions let out from not only Charlie but Nicole as well.
Ashvin Sivakumar: THE ARGUMENT SCENE BREAKS ME. Driver and Johansson give some of my favorite line deliveries ever in it and woah, my emotions get unleashed. There are a few scenes with Driver that are quite heartbreaking too. Like when Henry calls Nicole's L.A. place "home". Or when he goes over to find Nicole's new boyfriend there and that he doesn't belong there anymore. It's a heartbreaking film.
Michael Heimbaugh: Surprisingly — and possibly against my better judgment — I found myself deeply moved by the scene where Charlie steps onstage and sings "Being Alive" from Company. The lyrics are a perfect depiction of his marriage to Nicole (Somebody need me too much / Somebody know me too well / Somebody pull me up short / And put me through hell / And give me support / For being alive). They illustrate the fact that, though the two had a rough time together and have grown apart, they still care for one another on a fundamental level. It's one of those "only in the movies" moments that's handled with such gentle grace that it feels real. Plus, Driver is a terrific singer (ditto Johansson) — it almost makes me think this whole thing should've been a musical.
Spencer Henderson: There's a scene where Henry drops an In & Out burger onto the ground and can't eat it. That one hurt.
Nick Kush: The argument scene is the most harrowing, but the more I think about it, the more I'm devastated by Adam Driver singing "Being Alive." Not only is it a great encapsulation of Charlie and Nicole's relationship, but it's also a great snapshot of Charlie's conceitedness and why their relationship failed. He's not a terrible person, but he certainly does think a lot of himself. The fact that he can nonchalantly step on stage and belt an entire song shows the 'look at me' energy that eventually pushed away Nicole, but he's also expressing a ton of true devastation as well. It speaks to the idea that he is still very much unaware of the pain he caused Nicole.
Better performance: Adam Driver or Scarlett Johansson?
Steven Ruiz: With how they both delivered powerful and emotional performances, there's no real way of choosing who outperformed who. Driver and Johansson are forces here, and it wouldn't be right to choose one or the other.
Ashvin Sivakumar: I think they're equally wonderful (and should both go on to win their respective Oscars — yes, BOTH). Many would pick Driver easily because of Johansson's controversies but I think they're equally tragic and wonderful, but I do prefer Adam. I mean, he sings BEING ALIVE from Sondheim's Company… If that isn't the best thing ever, I don't know what is.
Michael Heimbaugh: Johansson wins that contest in a walk. Nicole is a person struggling to keep a ton of plates spinning — work, family, motherhood, individuality — and Johansson taps beautifully into her exhaustion, anger, and grief. With all the controversy surrounding her nowadays, it's easy to forget how talented a performer she is. One of the best of this year, for sure.
Spencer Henderson: I'm going to cheat and say both are outstanding. Although, I feel if Johansson got to play the role of a tree like she has spoken about in interviews, then we would have been treated with the best performance to ever grace the silver screen. Driver simply wouldn't be able to keep up.
Nick Kush: Driver is the best thing in just about every movie he is in, and the line delivery of his final blow in their argument — "I hope you get an illness, and get hit by a car and DIE!" — is perfectly distressing, awkward, and full of frustration as many real arguments are. However, this is ultimately a tie for me, as Johnasson reminded me once again that she's one of the most talented actresses working. Her pseudo-therapy session with Nora during their first consultation is some of the best acting of her career — it still gives me chills.
Who's the best lawyer: Nora Fanshaw (Dern), Bert Spitz (Alda), or Jay Marotta (Liotta)?
Steven Ruiz: Nora Fanshaw was perfect in every way. She had her facts, she had confidence and sass, and she knew how to play with fire. Bert Spitz seemed to have everything done right but it didn't feel as if he did. Jay Marotta just made things worst for Charlie and the only reason why he went back to Jay was that Nora had Charlie pinned to the ground. Nora wins easily.
Ashvin Sivakumar: They're equally good. Nora's like your hipster best friend who's great at therapy and helping you calm down. Jay is like that stoic corporate lawyer who would win that legal case for your very evil big toxic media corporation. And Bert is like your sweet, caring, gentle and patient granddad, who might be too patient at times. I'd say Nora wins just for the tea and biscuits — and it's Laura freaking Dern, of course, she wins.
Michael Heimbaugh: Fanshaw seems like the obvious choice here. A good lawyer fights tooth-and-nail for their client no matter what, and that's what Nora does for Nicole. Baumbach's script ultimately depicts her as a conniving shark ("I didn't want him to be able to brag that he got 50/50"). That's unfortunate, because she seems to genuinely care about Nicole and want to defend her rights in a world dominated by men. Indeed, she's one of the few characters in the film who seems to truly see her at all.
Spencer Henderson: I feel like the movie kind of answers this question and it's Nora. But at one point in the film, Bert hugs Charlie and it was a really nice hug.
Nick Kush: The distinction between "favorite" and "best" is important here. My favorite is unquestionably Alan Alda's Bert, who adds a different, softer energy to the bitterness surrounding this divorce. (It was a great idea by Baumbach for Charlie's character to cast him aside, underlining the idea that a certain kind of warmth and thoughtfulness has no place in an ugly divorce.) The best is Nora, mostly because she gets her way in the end — and because Laura Dern is a national treasure.
Does Marriage Story ultimately pick aside between Charlie and Nicole?
Steven Ruiz: No. Because of its easy to follow narrative, no one is getting more time than the other, it doesn't pick who is a better person. These two have their faults, they're not perfect, so there's no way of picking a side.
Ashvin Sivakumar: Not really. Showing sides at times but never truly feeling too opinionated, to be honest, and in that it understands the biased complications of divorce, and how that takes place between a couple going through it.
Michael Heimbaugh: I'd say the film very clearly sides with Charlie (who's essentially a Baumbach surrogate, so I guess that makes sense). It spends most of its runtime with Charlie, depicting him as having received the short end of the stick in the divorce. We're expected to be heartbroken that he can't connect with his son (though I'd say that's kind of on him for being an absent dad). The movie even ends with Charlie getting to take Henry home even though it's Nicole's "night," like a consolation prize of sorts. Both parties in the marriage are at fault, to be sure. But I think Baumbach could have done a better job placing the onus on Charlie, who is more or less the root of most (if not all) of their problems.
Spencer Henderson: I think of the two Nicole is definitely the more sympathetic character. I don't think either are necessarily bad people, but Charlie is kind of a hipster asshole who subjects others to entire show tunes at karaoke and tells people they should be hit by cars… I think the statement of the film is that divorce is an inherently messy process, and no matter how well-intentioned some might be in their approach to it, they are going to walk away damaged and bruised by it.
Nick Kush: No! And I'm annoyed that Twitter has turned into a debate over whether Charlie or Nicole is in the right. The point is that divorce — especially ugly divorces such as this one — is the real villain, and it clouds a lot of the judgment and genuine affection that people share for each other, even if they're not together anymore. The movie definitely spends more time with Charlie in the second half, but he also has way more reflection to do and has more to grow. The little smile that Nicole offers after Charlie finally tells her that he took a job as a professor in L.A. says it all; he's finally acted selflessly for once.
Where does Marriage Story rank in the pantheon of divorce movies?
Steven Ruiz: Honestly, it's the only film I've seen that centers on the subject. So I would say all the way at the top. (For now!)
Ashvin Sivakumar: THE TOP. I love Baumbach and this is him at his very best. This would be my top. Yes, over Blue Valentine, Revolutionary Road, Kramer vs. Kramer included.
Michael Heimbaugh: As we all know, the definitive film about divorce is Chris Columbus' 1993 magnum opus Mrs. Doubtfire. Marriage Story might not quite stack up to that level of quality (and indeed, how could it?) but it's certainly a solid 3/5 on the Doubtfire scale — putting it just above Kramer vs. Kramer and Waiting to Exhale.
Spencer Henderson: I definitely would say this sits near, but probably at the top. Kramer vs. Kramer is also great, but I think this has a better screenplay and the performances are as good as they can get. I also think last year's Wildlife directed by Paul Dano is an excellent and brutally detailed film about a marriage ending. I am a child of divorce, and the situation in Marriage Story could not have been more different than my parent's divorce. However, I think Marriage Story transcends being just a film about divorce. It is filled with insight and universal truths about relationships, family, love, kindness, and humanity.
Nick Kush: Marriage Story is definitely near the top. I'm still sifting through how I feel about it in comparison to The Squid and the Whale, Baumbach's other major divorce movie, but I appreciate that Baumbach approached this film with a level head. I love the fact that there isn't a true villain which is something that many relationship movies have trouble with. Even Kramer vs. Kramer vilifies Meryl Streep's character to an extent.
---
Follow MovieBabble on Twitter @MovieBabble_
Thank you for reading! What are your thoughts on Marriage Story Exit Survey? Comment down below!
If you enjoyed this article, subscribe to MovieBabble via email to stay up to date on the latest content.
Join MovieBabble on Patreon so that new content will always be possible.