Penny Marshall once said, "I want you to laugh and cry. That's what I do." And she did it well. Her movies reflected the joy, tragedy, and even the mundane moments of life. Marshall herself was known for being kind of… subdued, but like many creative types, her feelings showed in her work. This may be surprising, as she's often considered alongside more prolific filmmakers, but Penny Marshall only directed seven traditional movies (not including her work on TV). I've seen all of them (a fact I realized only today). In memory of Penny Marshall, who passed away this week at the age of 75, MovieBabble examines the movies for which she was at the helm.
Jumpin' Jack Flash (1986)
I re-visited Marshall's first film, Jumpin' Jack Flash only recently, for an article celebrating Phil Hartman. I had forgotten how genre-bending it is: comedy, action, spy movie, even a little romance… all rolled into one. Yes, it is a bit dated now (especially the computers used in the movie), but it holds up, as does the performance of Whoopi Goldberg. Yes, Goldberg plays the funny moments, both subtle and over-the-top, with precision, as one may expect. Most surprising for the audience, was how well she handled the suspense elements of the film. The audience is scared right along with Terry, as she gets in over her head… several times. Whoopi could've easily pulled off being a staple of horror films with those chops.
There are several scenes in which Terry (Goldberg) is underestimated, or downright dismissed, simply because she's a woman. One wonders if Marshall drew upon her own experiences, while directing Goldberg's performance. At any rate, the feelings expressed seem quite real. It is an underrated movie, in my opinion, and worth a watch.
Big (1988)
Big was, well, big at my house. My mother was into all things Tom Hanks when I was growing up (she still is, actually), and this one was watched frequently. It's one of the movies that made me pay more attention to movies. What I mean by that is, as a small child, movies just kind of exist. You don't think about how they're created, unless you're some sort of filmmaker child prodigy. I think Big was one of the first instances where I appreciated the performances, storytelling, and overall look of what I was watching.
The fact that this was only Penny Marshall's second feature film is actually quite impressive, as it is one of her best. When the news broke of Marshall's passing, most outlets were putting "director of Big" in their headlines. That's how much this movie means to people. It felt magical to me as a kid, and it still does.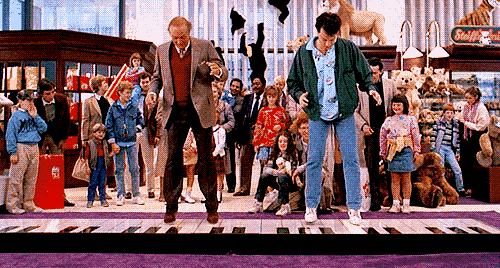 Awakenings (1990)
Many people find it surprising that Marshall directed Awakenings. It is definitely a drama, though the presence of Robin Williams does add some comedic spark. The movie is set in the late 1960s, and tells the story of Dr. Malcolm Sayer (Williams), who works with catatonic patients in a long-term care facility. Sayer seems to be the only one concerned that these people have been catatonic for years (some for more than forty), and wants to help them. After seeing the effects a new medication has on patients with Parkinson's Disease, Sayer decides to do a trial on the people in his care. The changes are astounding, especially for a patient named Leonard (Robert De Niro).
Awakenings is heartwarming, and heartbreaking, in nearly equal measure. The performances are remarkable, especially those of De Niro and Williams. I'm also thankful for the presence of Alice Drummond, a favorite character actress of mine (Ace Ventura: Pet Detective, To Wong Foo Thanks for Everything, Julie Newmar). Penny Marshall may be remembered for her more popular films, but I think she did some of her best work here.
A League of Their Own (1992)
Now we come to what may well be the defining film of Marshall's career. While Big may appeal to a larger audience, A League of Their Own is an important story that may not have been told without Penny Marshall. You can't ask for a much better legacy than that. On paper, a movie about a women's professional baseball league during World War II might seem boring. In my opinion, there are three factors that keep this from being the case.
Firstly, the cast is absolutely phenomenal! Tom Hanks, Geena Davis, Lori Petty, David Strathairn (a favorite of mine), Madonna, Rosie O'Donnell, Jon Lovitz… the list goes on. This movie is a family affair, as Marshall's brother Garry (a legend in his own right), portrays the owner of the league. Her daughter, Tracy Reiner, portrays Rockford Peach "Betty Spaghetti" Horn. Marshall's niece, Kathleen (Garry's daughter) also played an outfielder, but wasn't seen much.
Secondly, the humor. This story could have easily swerved into melodrama territory, and admittedly, it does at times. However, it is genuinely funny, and sarcastic, and doesn't take itself too seriously (other than maybe at the end). Many of the laughs come when Hanks and Davis' characters collide. Dottie (Davis) is no-nonsense, and Jimmy (Hanks) is… well… kind of nonsensical. There are subtle moments, be they dialogue or facial expressions, that provide chuckles along the way. The line between comedy and drama is straddled so expertly, it makes this movie hard to categorize.
Thirdly: Penny Marshall directed it.
Renaissance Man (1994)
Admittedly, this is more of a guilty pleasure type of movie, but it's a lot of fun. I first saw this one in the theater (cinema, for some of you), after receiving passes from a local radio station. I think they were giving them out strictly because Mark Wahlberg was in it, and at that point, he was mostly known as a… musician (of sorts). If you remember when he made the transition, you're probably about my age. Good to see you! Anyway, I digress.
The leads here are Danny DeVito, and the late great triple-threat, Gregory Hines. The former is hired as an English professor at a military base, the latter is a drill Sergeant. Comical conflicts ensue. The supporting cast includes Wahlberg, Khalil Kain, Stacy Dash, Kadeem Hardison, Gregory Sporleder, Alanna Ubach, and A Bronx Tale's Lillo Brancato Jr. All of them are excellent… well, not so much Wahlberg, or the pretty (and that's about it) Dash.
I feel like a broken record at this point, but we again get a lovely blend of comedy and tragedy, here. I think that is where Penny Marshall was at her strongest, finding the funny within the tragic, and the drama behind a laugh.
The Preacher's Wife (1996)
Speaking of casts, The Preacher's Wife definitely contains a lot of familiar faces. Start with remarkable leads: Whitney Houston, Courtney B. Vance, and Denzel Washington. Add in the always delightful Jenifer Lewis, and Loretta Devine. Top it off with legends like Lionel Richie, and the aforementioned Gregory Hines, and you've got magic. As you might expect, Houston's singing voice is showcased, but she also turns in a good acting performance. Though he wasn't as much of a household name then as he is now, Vance is absolutely wonderful, and portrays depression quite well. Pastor Biggs is emotionally numb at the start of the story, and reaches out to God for help. He gets an answer, though probably not exactly what he was expecting.
Denzel Washington's performance is, of course, very good, as always. I don't think I've ever been disappointed by a Washington performance. And not to sound shallow, but casting him as an angel was a good call. Hines essentially plays the proverbial, "devil on the other shoulder," offering Rev. Biggs what seem like great opportunities. It's very subtly done.
While The Preacher's Wife may not be one of my favorite movies of all time, it is a solid outing. As an added bonus, it's a Christmas movie, so… go for it.
Riding in Cars With Boys (2001)
Okay, full disclosure: Riding in Cars With Boys is essentially a "chick flick." It's adapted from a memoir by Beverly D'Onofrio, whom Drew Barrymore portrays in the movie. Beverly grew up in the 1950s and 60s, with a police officer father (James Woods), and the typical worry-wart mother (Lorraine Bracco) found in movies like this. Beverly has plans to go to college and become a writer (sounds like a solid dream to me), but her other interest gets in the way of that.
Many of Bev's memories, and life-changing events, take place in cars. With boys. Hence the title. Her father rides her around in his police car when she's a little girl, having talks that are sometimes uncomfortably candid for him. As a teenager, she spends time in a car with a young man from school. This leads to 16-year-old Bev becoming mother to a little boy.
Steve Zahn is a favorite of mine, and he does some fine work here as Bev's husband, Ray. Even though his character is a "loser" on paper, there is nuance to him, and he has a great heart. As an added bonus, Brittany Murphy turns in a hilarious performance as Bev's best friend, Fay.
Oh, and oddly enough, this one also starts out at Christmas.
Rodman (2019)
In the works was a documentary on basketball player, and larger than life figure, Dennis Rodman. It should be interesting to see if it will still be released as she made it, or if it will be scrapped and remade by someone else.
In Conclusion…
While Penny Marshall may not have made as many movies as say, Steven Spielberg, she still leaves behind a legacy of lovable and relatable films. The kind that people remember, quote, and reach for when they need a pick-me-up. You can't really ask for more than that. She will be missed.
---
Thank you for reading! What are your thoughts on the work of Penny Marshall? Comment down below!
If you enjoyed this article, subscribe to MovieBabble via email to stay up to date on the latest content.
Join MovieBabble on Patreon so that new content will always be possible.
What movie topic should I discuss next? Whether it be old or new, the choice is up to you!